20 Sept 2017
Earlier this year, I read Rabih Alameddine's An Unnecessary Woman for the first time, and was immediately delighted—I mean, if you want to seduce me as a reader, you could do no better than to mention W. G. Sebald on page three. Except perhaps by following up with Roberto Bolaño and Italo Calvino, which Alameddine does in short order. You see, the protagonist of An Unnecessary Woman is an amateur translator of great texts—no one reads her work, but her entire life revolves around books. (Relatable.) I was halfway though before I realized that I should probably be keeping a list of the books mentioned in the text, but as it turns out, there was little need—I found one online. Afterwards, I was inspired to look into other book-filled books. Spoiler alert: there are quite a number. It's almost as if writers love books or something.
Note that I am counting plays as books here, as well as book-length poems and epics, but short stories and single poems are listed separately. I make no claims that these lists are definitive, though I've made them as complete as possible. Obviously, there are many more novels and memoirs that mention long lists of books than are included here, but I'm limited, as ever, by time, availability of data, and the demands of maintaining sanity. So below, please find twelve books that are filled to the gills with mentions of other books, and feel free to add further suggestions in the comments.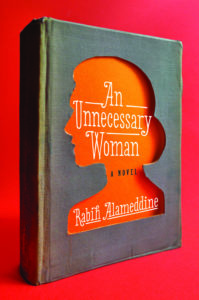 Rabih Alameddine, An Unnecessary Woman
Austerlitz, W. G. Sebald
The Emigrants, W. G. Sebald
2666, Roberto Bolaño
The Savage Detectives, Roberto Bolaño
A Heart So White, Javier Marías
Tomorrow in the Battle Think on Me, Javier Marías
Your Face Tomorrow trilogy, Javier Marías
A Tale of Two Cities, Charles Dickens
Invisible Cities, Italo Calvino
Cinnamon Shops, Bruno Schulz
The Conformist, Alberto Moravia
Lolita, Vladimir Nabokov
The Reluctant Fundamentalist, Mohsin Hamid
The Shipping News, Annie Proulx
The Magic Mountain, Thomas Mann
One Hundred Years of Solitude, Gabriel García Márquez
The Year of the Death of Ricardo Reis, José Saramago
Murphy, Samuel Beckett
Waiting for Godot, Samuel Beckett
Giovanni's Room, James Baldwin
Corydon, André Gide
Sepharad, Antonio Muñoz Molina
Sophie's Choice, William Styron
Nightwood, Djuna Barnes
The Leopard, Giuseppe Tomasi di Lampedusa
Kaddish for an Unborn Child, Imre Kertész
Fateless (or Fatelessness), Imre Kertész
Crime and Punishment, Fyodor Dostoyevsky
The Brothers Karamazov, Fyodor Dostoyevsky
The Kingdom of God Is Within You, Fyodor Dostoyevsky
Madame Bovary, Gustave Flaubert
The Waves, Virginia Woolf
Mrs. Dalloway, Virginia Woolf
Anna Karenina, Leo Tolstoy
The Book of Disquiet, Fernando Pessoa
The Fall, Albert Camus
The French Lieutenant's Woman, John Fowles
Metamorphosis, Franz Kafka
The English Patient, Michael Ondaatje
Dubliners, James Joyce
Herzog, Saul Bellow
For Whom the Bell Tolls, Ernest Hemingway
The Encyclopedia of the Dead, Danilo Kiš
Ransom, David Malouf
The Color Purple, Alice Walker
This Way for the Gas, Ladies and Gentlemen, Tadeusz Borowski
Alice in Wonderland, Lewis Carroll
Flight Without End, Joseph Roth
Hunger, Knut Hamsun
A Book of Memories, Péter Nádas
The Prime of Miss Jean Brodie, Muriel Spark
A House for Mr. Biswas, V. S. Naipaul
Midnight's Children, Salman Rushdie
Waiting for the Barbarians, J. M. Coetzee
Who's Afraid of Virginia Woolf?, Edward Albee
A video montage of the book covers –
Plus the stories "Hills Like White Elephants," by Ernest Hemingway, and "Death of a Traveling Salesman," by Eudora Welty, as well as the poem "The Vanity of Human Wishes" by Samuel Johnson.
Other writers mentioned include:
Albert Camus, Marguerite Duras, Junot Díaz, Aleksandar Hemon, Nadine Gordimer, Nuruddin Farah, Patrick White, Milan Kundera, Ismail Kadare, Nikolai Gogol, Jorge Luis Borges, Cees Nooteboom, Bilge Karasu, Marguerite Yourcenar, Constantine P. Cavafy, Alice Munro, Sadegh Hedayat, Marcel Proust, Jean Améry, Novalis, William Burroughs, Joseph Conrad, Federico García Lorca