Monday, October 1, 2018
'Hillary said so': Iran slams Saudi Arabia as top 'terrorist donor,' quotes Clinton to back claim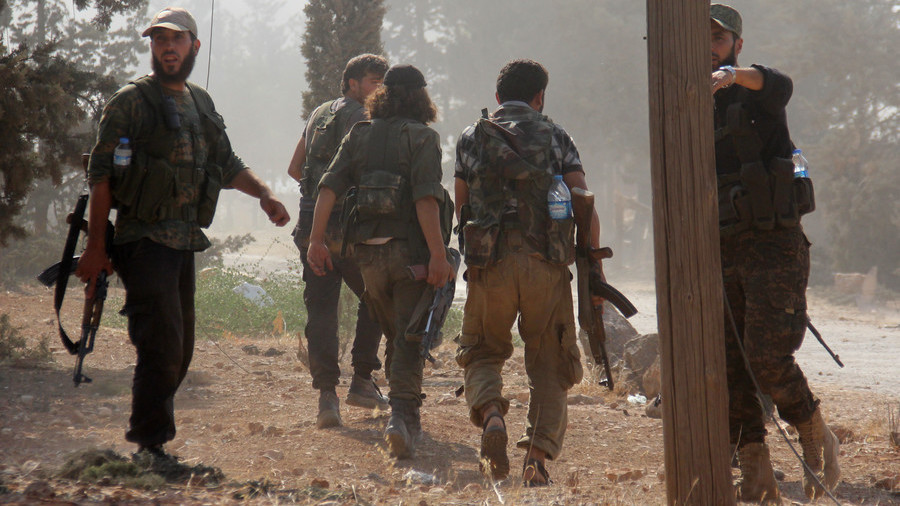 A fiery speech by an Iranian representative, responding to Saudi accusations at the UN General Assembly, blamed terrorist activity around the globe on Riyadh – and even quoted Hillary Clinton to back that up.
Accusing Iran of supporting terrorism was a "strange and outlandish claim" by Saudi Foreign Minister Adel Jubeir the Iranian representative said. He was addressing the United Nations in Arabic, explaining that he was doing so in order "to make sure that our position is rendered clear" to Riyadh.
"Everybody knows that Saudi Arabia supports terrorism in a very blatant and widespread manner," the diplomat said. He then added, unexpectedly, that "in the framework of WikiLeaks in 2009, Hillary Clinton is said to have stated that Saudi Arabia is the greatest donor to terrorist groups around the world."
WikiLeaks did publish a memo by Clinton – which she put together in 2009, while being the US Secretary of State – that said that "donors in Saudi Arabia constitute the most significant source of funding to Sunni terrorist groups worldwide… Saudi Arabia remains a critical financial support base for Al-Qaida, the Taliban… and other terrorist groups."
(H. Clinton's email message about Saudi funding of Islamist attacks)
Tehran, meanwhile, accuses Riyadh of being responsible for terrorist attacks "in the Middle East, north Africa and Europe" as well as of backing Islamic State (IS, formerly ISIS/ISIL) and Al-Qaeda.
"It's an open secret that the Yemen nation is suffering as a result of the direct machinations and maneuvers of Saudi Arabia," the spokesman added.
He then showed the General Assembly photos of Yemeni children, who were killed in an airstrike on a school bus, carried out by the Saudi-led coalition in September.
"You say that you're defending the Arab identity," the Iranian representative said, addressing the Saudis. "Should Arab identity be used as a cause or pretext to carry out proxy wars… You're not defending the Arab identity. You're killing the Arab identity with your dollars. You have no pity for anyone in the Arab World. You have no pity for any Arab people, including those, who are supposedly you allies."
He also turned down Riyadh's claims that the Houthi rebels are attacking the Saudi territory with Iranian-made ballistic missiles. Delivering such hardware to Yemen would've been impossible due to the blockade of the country, the diplomat said.
"If these were ballistic missile… how come there were so few casualties on the civilian side? Have you seen what a ballistic missile is capable of doing?" he wondered.
Saudi FM Jubeir took the floor at the UNGA earlier on Friday and leveled a host of accusations against Tehran, Riyadh's rival for influence in the Middle East. He claimed that achieving stability in the region would be impossible without deterring Iran, accusing it of creating and supporting "terrorist armed militias," assassinating diplomats, inciting sectarian violence and meddling into the affairs of other nations.
Saudi Arabia "supports the new US strategy to counter Iran, including its seriousness to address the nuclear issue and ballistic missile program and support for terrorism," Jubeir said.

(Boston protest Saudi leader Bin Salman – MIT – 23 March 2018)
………………….
From 'The Intercept'
Hillary Clinton Acknowledges Saudi Terror Financing in Hacked Email, Hinting at Tougher Approach
Photo: Brendan Smialowski/AFP/Getty Images
Saudi Arabia and the U.S. have maintained their alliance for seven decades despite disagreements over oil prices, Israel, and, more recently, the Obama administration's rapprochement with Iran.
Judging by a 2014 email purportedly written by Hillary Clinton to John Podesta, her current campaign chairman, and published by WikiLeaks, there have been serious tensions over Saudi Arabia's role in the Syria conflict as well. In the midst of a nine-point overview of U.S. strategy in the Middle East, Clinton wrote:
"… we need to use our diplomatic and more traditional intelligence assets to bring pressure on the governments of Qatar and Saudi Arabia, which are providing clandestine financial and logistic support to ISIL and other radical Sunni groups in the region."
Clinton's private comments differ from the public line taken by members of the Obama administration. Speaking at the 9/11 Memorial and Museum in New York, John Brennan, the director of the CIA, recently called the Saudis "among our very best counterterrorism partners globally." Last month, Obama, who long ago referred to Saudi Arabia as a "so-called" ally, acted to protect the Saudi government from litigation by vetoing the Justice Against Sponsors of Terrorism Act, which would allow 9/11 victims to sue the Saudi government for damages in U.S. federal court. Congress overturned Obama's veto, leaving the door open for Saudi Arabia to be named as a defendant in future lawsuits.
The U.S. has its reasons for maintaining the Saudi alliance. The country produces 13 percent of the world's oil and holds $117 billion of U.S. debt. During Obama's two terms, Saudi Arabia has spent more than $50 billion on U.S.-made weaponry, far more than during George W. Bush's two terms, and the U.S. has approved deals worth another $65 billion.
The kingdom still has its staunch backers in Washington, due in no small part to its lavish spending on lobbyists and public relations. Among them is John Podesta's brother, Tony, a lobbyist. Filings made under the Foreign Agents Registration Act show that Saudi government is paying Tony Podesta's firm, the Podesta Group, a $140,000 monthly fee through the end of 2016, and that Tony himself consults on the Saudi account. Earlier this year, Politico reported on a 104-page white paper circulating on Capitol Hill, said to detail the Saudi government's efforts to fight terrorism.
Public opinion about Saudi Arabia now appears to be approaching a crossroads. According to Gallup, the country's favorability ratings are at 37 percent, between China and Russia. Hillary Clinton and Donald Trump have both condemned ties between the country's religious leadership and extremist ideology. Over the past year, a series of investigative articles in the New York Times has chronicled the Saudi government's invasive legal controls over women, its complicated relationship with ISIS, and the brutal proxy war it is carrying out against its longstanding enemy, Iran, in Yemen.
Clinton was not the first to assert links between the governments of Saudi Arabia and Qatar and the Islamic State. Six months before the 2014 email, Nouri al-Maliki, the prime minister of Iraq, accused both governments of "inciting and encouraging terrorist movements." Saudi Arabia vigorously denied al-Maliki's allegations at the time. Earlier in 2014, the Obama administration hosted a two-day strategy meeting with intelligence chiefs from Saudi Arabia, Qatar, Turkey, Jordan, and other Middle Eastern countries reportedly intended to refocus military aid away from the Nusra Front and ISIS and toward more "moderate" groups of rebels.
The wording of Clinton's 2014 email, attributing Saudi Arabia's support for radical Sunni militants to the Saudi government itself, as opposed to a few radical outliers, may also emerge as a factor in the ongoing debate about the degree of Saudi Arabia's support for al Qaeda in the years leading up to 9/11. Fifteen of the 19 hijackers were Saudi citizens. The question of whether the country's connection to the plot reached official levels was opened up again this summer by the release of 28 classified pages from a 2002 congressional investigation into the 9/11 attacks. The document offers new information about the FBI's investigation into Omar al-Bayoumi, a wealthy Saudi business student who had worked with the Saudi Civil Aviation Authority.
The 9/11 Commission Report found al-Bayoumi to be "an unlikely candidate for clandestine involvement with Islamist extremists." Yet the 28 pages paint a different picture, relaying FBI reports of al-Bayoumi's "extensive contact with Saudi government establishments in the United States" and "numerous reports from individuals in the Muslim community, dating back to 1999, alleging that al-Bayoumi may be a Saudi intelligence officer."
More damning, however, are differences between the accounts given by the 9/11 Commission Report and the 28 pages regarding the initial meeting between al-Bayoumi, Nawaf al-Hazmi, and Khalid al-Mihdhar at a restaurant in Culver City, California. Soon after, al-Bayoumi found an apartment for the two men — both of them future 9/11 hijackers — and lent them money for rent. The 9/11 Commission Report suggests that their initial meeting was a coincidence. Again, the FBI account quoted in the 28 pages differs: "There are indications in the files that his [al-Bayoumi's] encounter with the hijackers may not have been accidental."
Over the summer, in the days after the killing of 49 people in an ISIS-related shooting at a club in Orlando, Clinton openly criticized the Saudi, Qatari, and Kuwaiti governments for failing "to stop their citizens from funding extremist organizations." Her newly released 2014 email goes a step further, directly attributing support for ISIS to the Saudi government. It seems that part of the Obama administration's approach to Saudi Arabia has been to hold its nose and keep its mouth shut, at least in public. Should Clinton prevail in the November election, it will be her turn to try and manage an increasingly awkward alliance.